Dawlish: 'Britain's bossiest town' to review signs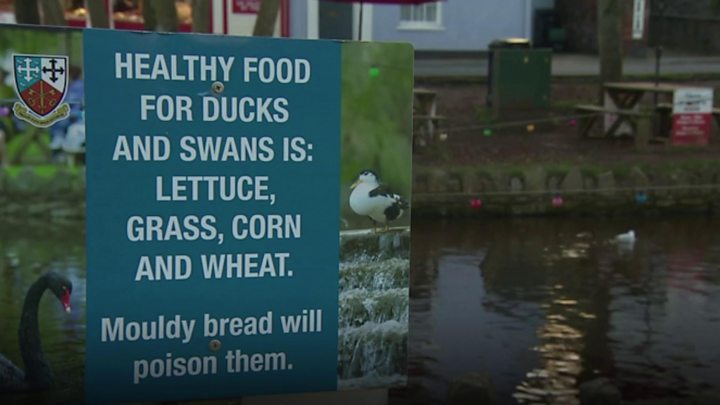 A town is to review its "oppressive" signage after a scathing review from a tourist who said he felt "bombarded by notices".
A visitor to Dawlish in Devon's online review said: "Absolutely everywhere I looked there was a sign telling me to comply in one way or another".
The signs include advice about keeping dogs on leads, and how to feed birds.
Mayor Martin Wrigley accepted the complaint, saying: "We've got to reduce the number of signs."
More stories from Devon and Cornwall
'Oppressive'
The Trip Advisor review, from a person called SW stated: "There are literally dozens and dozens of them - everywhere."
The reviewer continued in a later post: "Dawlish looks old, sad and ridiculous with so many notices. It feels oppressive for visitors.
"If you want visitors then try welcoming them! Forget the 'Do not do this' and the 'Do not do that' and start looking at the contradictions, confusion and general negativity it brings.
"I truly have never in my lifetime visited anywhere so bad in this respect."
Vanessa Riley from Dawlish Chamber of Trade insisted that many of the signs were necessary: "People that have not seen the signs have let dogs off."
She explained "quite a few" of the town's popular black swans have been lost to dog attacks over the years.
People in Dawlish were divided, with one man telling the BBC: "I don't think signs are the answer. I think it's education of people that have got the animals.
"The signs won't make any difference. If they are going to do it they'll do it anyway whether the signs are there or not".
Another person said: "I think they should be there so that people keep their dogs under control and not scare the wildlife and the birds and the swans and things."
Dawlish hit the national headlines in 2014, when winter storms destroyed the rail line in the town.