Plymouth MP's bid for statue in honour of Nancy Astor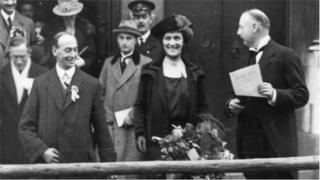 A bid has been launched to build a statue to honour the first female MP to take her seat in the House of Commons.
Plymouth Labour MP Luke Pollard says he would like to see a memorial to Conservative Nancy Astor, who represented the city.
He is aiming to mark the 100th anniversary of her election in 1919 to the Plymouth Sutton ward.
It is hoped the statue will be near Lady Astor's former home on Plymouth Hoe.
More on the MP statue bid, and other Devon and Cornwall news
Mr Pollard said while he disagreed with many of Lady Astor's policies, "she wasn't just Plymouth Sutton's MP, she was the Member of Parliament for women and it's right that this is celebrated.
"I am determined to work cross-party, in her memory and her name to garner support to get more women to stand and be elected in Parliament."
There is no figure for the cost of the statue, but Mr Pollard will be forming a committee of supporters to raise funds for it.
Nancy Astor was born in Virginia, USA, in 1879 to a rich family and moved to England in 1904 after a failed first marriage.
In 1906, she met and married wealthy politician Waldorf Astor who became the Conservative MP for Plymouth Sutton in 1910.
He relinquished his seat when his father died, because he inherited his title of Viscount Astor and his place in the House of Lords.
His wife decided to stand in Plymouth Sutton in his place.
She won the election in November 1919 beating her main rival, Liberal Isaac Foot, father of 1980s Labour leader Michael Foot.
The first woman to be elected to Parliament was Constance Markievicz in 1918, but as a member of Sinn Fein she had disqualified herself by refusing to take the oath.
Lady Astor's maiden speech was about the perils of drinking, and in 1923 she introduced a Private Member's Bill which raised the age qualification for buying alcohol to 18.
She was also a fervent fighter for women's causes and equal rights.
She kept the seat until the 1945 election when she decided not to stand. She died in 1964.