Jailed Devon conman ordered to pay back £5.8m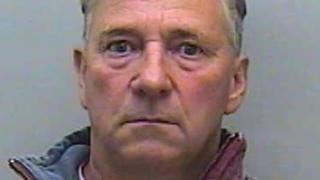 A fraudster who conned American investors out of millions of pounds has been ordered to pay £5.8m or have his sentence extended by seven years.
Joseph Birch, 65, lived a lavish lifestyle and claimed to be a knight, a peer and a Royal Marine in elaborate schemes.
He was jailed at Exeter Crown Court for seven and a half years in May 2016.
The judge said he was "breathtakingly dishonest" and the money covered "assets he has not disclosed".
Birch, now of Dartmoor Prison, told one victim he had been involved in a secret attempt to rescue hostage Terry Waite from Beirut and others that he had served in Iraq but his work was so secret that it would never be acknowledged by the Pentagon.
He returned to Exeter Crown Court to face a confiscation hearing under the Proceeds of Crime Act.
Representing himself, Birch told the court he had no money left after his horse racing business was repossessed.
Judge Graham Cottle declared the amount by which Birch benefited from crime to be £7.5m and his available assets to be £5.8m.
He said: "He is a proven liar and fraudster and the evidence I heard from him simply confirmed that view.
"I have no doubt whatsoever he has assets he has not disclosed."
Birch has three months to repay the money, or face a sentence extension of seven years.
The conman was jailed after he admitted four counts of removing or converting criminal property and one of possessing articles for use in fraud.
He had lived an extravagant lifestyle, and posed as a jet-setting international businessman.
Birch also invented a string of fictitious companies and forged documents designed to show he had vast resources.
Investors were conned into parting with their money by being sent fake photos of credit notes at the US Federal Reserve worth trillions of dollars.