Devonport safety probes stop cranes at nuclear submarine dock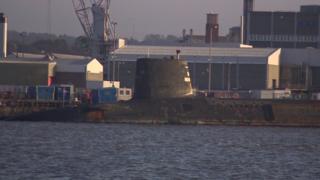 Cranes that lift nuclear fuel have been halted twice amid a series of safety alerts during a £200m refit of a Royal Navy Trident submarine, it has emerged.
The stoppages came at Devonport Dockyard's 9 Dock, where nuclear submarine HMS Vanguard is berthed.
Work was temporarily stopped in July 2017 and in September, said the Office for Nuclear Regulation (ONR) which is investigating the latest alerts.
Site operator Babcock said its priority was "high safety standards".
HMS Vanguard has been at 9 Dock since 2015 for a four-year refit and an unscheduled refuelling with a new nuclear core.
The ONR, which inspects nuclear facilities, said in its latest report that there had been two "incidents" involving cranes in September.
It said "all crane-related work" had been halted temporarily and it had launched a formal investigation.
Campaigners the Nuclear Information Service called for "all work at 9 Dock" to be suspended until the ONR investigation had been completed.
'Significant risks'
Director David Cullen said it was "extremely concerning to see these problems happening again and again".
Devonport's Labour MP Luke Pollard said the Vanguard refit "seems to be very problematic" and the "refit of our nuclear deterrent submarines carries significant risks".
He said he would "continue to speak to ministers" to ensure Devonport was "getting the resources it needs to safely complete Vanguard's refit".
The September incidents are the latest in a series of safety alerts involving cranes at 9 Dock:
The exact nature of the incidents involving the cranes, which are used to lift and replace nuclear fuel and other components at 9 Dock, has not been revealed.
HMS Vanguard
Launched in 1992
One of four Vanguard-class submarines that form the UK's strategic nuclear deterrent force
The others are HMS Vengeance, HMS Vigilance and HMS Victorious
All are based at Royal Naval Base at Faslane, Scotland
Nuclear-powered
Armed with Trident nuclear missiles
Refit and refuel started in 2015 at Devonport Dockyard
Babcock said the two incidents in September took place during "routine maintenance activities" and no-one was injured.
The cranes had since returned to action after operations were halted temporarily and changes had been made to procedures, it said.
The ONR said a formal investigation would establish the facts and ensure "action to prevent a recurrence".