Junior doctor Rebecca Ovenden suicide 'not work related'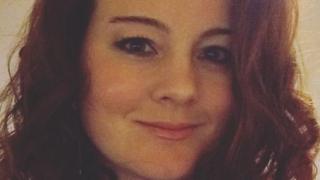 A 'remarkable' junior doctor from Devon took drugs from her own emergency department and took her own life, a coroner has concluded.
Dr Rebecca Ovenden, 32, who worked at Derriford Hospital in Plymouth, was found dead at her home on 28 March.
The coroner was satisfied the hospital had the correct systems in place.
Assistant coroner Andrew Cox concluded: "Rebecca was better at helping and treating others than she was at helping and treating herself."
Dr Ovenden was the third female junior doctor who has died or gone missing in the south west of England between February 2016 and March 2017.
Dr Rose Polge went missing during a junior doctors' strike and took her own life and Dr Lauren Phillips was last seen on 23 February.
The inquest in Plymouth heard Dr Ovenden had a history of mental health issues and had previously attempted to take her own life.
Powerful anaesthetics
Born in Grantham, Lincolnshire, she worked at Derriford Hospital in Plymouth for 18 months as well as for the Devon Air Ambulance.
The coroner recorded a conclusion of suicide and said: "This inquest raises the issue of the ease with which doctors have access to powerful drugs, but also raises the need for them to have access to powerful drugs."
He concluded the right systems were in place but they could not stop doctors like Rebecca from obtaining powerful anaesthetics for illicit use, stating "I cannot see how I can improve the situation that already exists".
Dr Anne Hicks, consultant in emergency medicine with a pastoral role at Derriford Hospital, said Rebecca was "fiercely proud" of being a doctor and got "overwhelmingly positive feedback from nursing members of the team".
If you are affected by any of the topics in this article, the Samaritans can be contacted free on 116 123 or through their website.