Pet fostering for Cornwall and Devon domestic abuse victims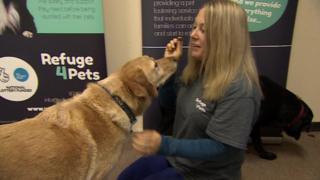 A pet fostering service for people fleeing domestic abuse has been set up.
Refuge4Pets, which operates in Devon and Cornwall, says victims often find having pets is a barrier to accessing temporary emergency accommodation as animals are not allowed.
The charity offers pet owners a safe place for their animals while they rebuild their lives.
It has been given nearly £10,000 from the National Lottery.
More on the pet fostering project, and other Devon and Cornwall news
The charity, thought to be one of the first of its kind in the South West, will look after dogs, cats, horses, birds and other small animals for up to six months.
All costs, including vet bills, are covered by the charity, although owners can offer a contribution.
---
One anonymous victim, whose dog is in a foster home, said her pet had been "used as a weapon" by her former husband.
"I moved out several times but I couldn't take the dog with me," she said. "But my husband wouldn't help look after him so I knew I had to come home. It was a toxic marriage.
"The refuge would not accept dogs, so I went back home and my life was in danger."
The woman, from Devon, told the BBC she was having to move out of the county to escape her abuser but planned to get her dog back in the future.
"The service has helped me immensely and after more than 20 years I'm coming out of the tunnel," she added.
---
Another victim said her dog, who she described as her "only friend", would have "taken the brunt" if she had left, adding that the fostering service "could be the difference between life and death... because some people don't get out of this alive".
Mary Wakeham from Refuge4Pets - previously an advocate for victims of domestic violence - said many victims see their animals as part of the family and leaving them behind is "just not an option".
"I've lost count of the number of people who said to me 'I can't go because there's nobody to take my pets - I can't leave'," she said.
Devon and Cornwall Police said there was a correlation between domestic abuse and animal cruelty and it will use the charity.
"If the victim won't leave the address because of their pets, which I can completely understand, then we can use this service in order to release that barrier," Det Sgt Lisa Meredith said.