Council bans 'noisy' children's rugby side from using park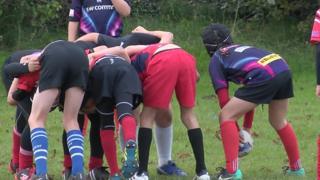 A children's rugby team has been banned from training in their local park after residents complained they were too noisy.
Torbay Council stopped Paignton's under-10s side from playing tag rugby after complaints of "increased noise".
An online petition to rescind the ban has received more than 4,000 signatures.
Torbay MP Kevin Foster said the decision made the council look like "killjoys".
He said the ban was a "total overreaction".
'Killjoys' claim
He said: "The council suggested this site, they took a booking, took payment, and then decided to stop it in the end and ask for it not to take place.
"So I think this ban, actually, just looks like an overreaction and gives the impression of being killjoys rather than anything sensible."
Simon Sinclair, a parent of one of the boys, said it was a "real shame".
"There's too many people that want to play rugby to fit in Queen's Park anymore, and it was just nice that we could just go across the road and play rugby here."
The noise complaints came following the club's first one-and-a-half hour training session for eight and nine-year-olds at Torbay Park on the morning of Sunday 1 October.
The club had reached an agreement with the council to use the park after struggling to accommodate fixtures for all 18 of its sides at their nearby Queen's Park ground.
However, Torbay Council notified the club this week that Sunday's training session would not be allowed to go ahead after it had received "a number of complaints pertaining to the increased noise" during the training.
"Owing to these complaints a permanent agreement cannot currently be reached. Discussions will continue to reach an amiable agreement," the council said.