Man dies as fishing boat capsizes off Devon coast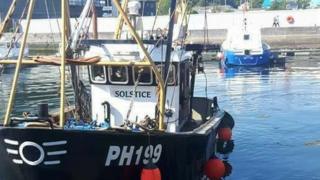 A fisherman who went missing after his boat capsized off the Devon coast has died, investigators have confirmed.
His body was recovered from the Solstice after two men clinging to the hull were rescued, the Marine Accident Investigation Branch (MAIB) said.
They were found four miles south of Plymouth after being spotted by a helicopter at about 01:00 BST.
It is believed the skipper, Nick Jones and crewman Chris Wonnacott were the two people saved.
It is understood the man who died was Mr Jones's father. The rescued men were treated by ambulance staff.
The alarm was raised when the boat did not return to Plymouth after fishing near the Eddystone Lighthouse.
More on this story and other Devon and Cornwall news
The coastguard said it had received a 999 call at about 20:40 on Tuesday reporting a vessel with three people on board was missing.
Two Royal Navy warships, a Border Force vessel and RNLI lifeboats, along with Coastguard helicopters, took part in a search and rescue operation.
UK Coastguard controller Dai Jones said: "Following an extensive search in the area using multiple assets, the fishing vessel was located and two men have been safely recovered."