Concern for grey seal fired at with 'speargun'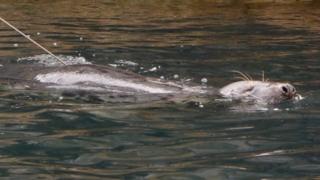 Police are investigating how a grey seal, spotted swimming in the wild, came to be fired at with what appears to have been a speargun.
The female seal, last seen on Sunday afternoon at Brixham Harbour in Devon, is "likely" to be pregnant, according to British Divers Marine Life Rescue.
Concerned medics have unsuccessfully tried to assess the animal's injuries.
Anyone who sees the injured seal should report the sighting to wildlife experts and not try to intervene themselves.
Devon and Cornwall Police said it was investigating the incident as an "attempt to commit an offence under the Conservation of Seals Act 1970".
The British Divers Marine Life Rescue charity is leading efforts to locate the seal.
Spokesman Dan Jarvis said he was not sure whether the seal had been injured intentionally or not but it was essential the animal's injuries were assessed.
He said: "We're not entirely sure how deep it goes, but yes hopefully it's not too bad in that she's still able to swim around and dive quite ably."
"It's likely that she's heavily pregnant with a pup as well," he continued.
Pregnant seals spend the summer putting on weight to help them get them through the pupping season and she could weigh up to 200kg (31 stone) or 250kg (39 stone).