Drugs gang who raped woman in revenge on rivals jailed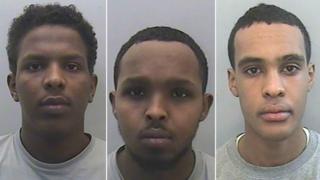 A drugs gang who kidnapped and raped a woman to "take revenge" on a rival operation have been jailed.
Abdirahman Abukar, Abdirahman Kadir and Ibrahim Mohammed carried out a series of attacks when they went to Exeter take over the heroin and cocaine market in the city, the crown court heard.
They were found guilty of rape, false imprisonment, kidnap and wounding with intent.
Abukar and Kadir were jailed for 23 years and Mohammed for 15 years.
A fourth gang member, Amber Olivia, is due to be sentenced on Wednesday.
For more on the jailed gang and other stories from across Devon and Cornwall.
The court was told the charges related to three attacks carried out across Exeter by Abukar, 19, of Alum Rock Road, Birmingham, Kadir, 21, of no fixed address, and Mohammed, 18, from Birmingham.
Drank toilet water
In the first of the attacks, which began in February, the gang used a shotgun to blast open the door of a flat where they believed 22-year-old Amber Olivia, who worked for them, was being held by a rival operation.
They then attacked and kidnapped the 28-year-old woman, who they recognised from a rival gang, in revenge, Exeter Crown Court heard.
In court the victim said the gang made her drink toilet water and threatened to "pimp her out".
The third attack was on a rival dealer they traced with the help of Olivia.
He was stabbed from behind outside a pub, with wounds to his chest, legs and buttocks.
Abukar and Kadir were found guilty of possession of the shotgun with intent to endanger life or cause fear of violence.
Olivia was found guilty of conspiracy to cause grievous bodily harm and possession of heroin with intent to supply.