Marine cleared of 'groping' university student at ball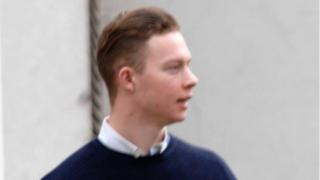 A Royal Marine sniper accused of groping a student at a graduation ball has been cleared.
Thomas Telford, 23, was alleged to have put his hand on a woman's crotch while she was posing for a photograph.
Mr Telford, of Golf Road, Kenley, Surrey, was found not guilty of one count of sexual assault at Exeter Crown Court.
He said he may have touched the woman by accident as he tried to "photo-bomb" the picture.
The court heard the 21-year-old female student was posing for a photo with another woman at the University of Exeter graduation ball in July 2016.
In a series of four mobile phone photos shown to the jury, Mr Telford can be seen standing next to the two women, but there was no evidence of physical contact.
Giving evidence Mr Telford said he had drunk six pints of lager during the ball, which was attended by about 2,000 students.
He said: "I was drunk. I was a bit more jolly after a few pints. I remember everything, I remember the incident.
"I photo-bombed a group on stage and one of them turned to me and gave me a tirade and said I had touched her friend."
Mr Telford, who has served as a marine for four years, was attending a course at the commando training centre at Lympstone, near Exeter and had been invited to the graduation ball by a friend.
Now a specialist maritime sniper, he is stationed at Faslane in Scotland.