Devon police officer charged with indecent image offences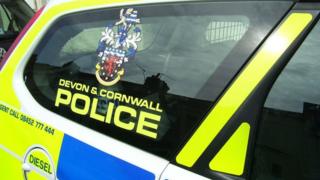 A serving police officer has been charged with indecent image and firearm offences.
PC Jonathan Fulcher, 34, who serves with Devon and Cornwall Police, is charged with causing a child aged 13 to 15 to watch or look at an image of sexual activity.
The indecent image allegations also include making an indecent photograph or pseudo-photograph of a child.
He will appear before Exeter Magistrates' Court on Tuesday 4 April.
PC Fulcher, from Crediton, Devon, has also been charged with possession of ammunition without a firearm certificate.
More on PC Fulcher, and other news
The Exeter-based officer was suspended from duty at the start of the investigation on 5 October last year.
Internal disciplinary proceedings will begin following the outcome of the criminal process, Devon and Cornwall Police said.
A spokesperson said: "Devon and Cornwall Police expect the highest professional standards and ethical behaviour from its staff and will robustly investigate misconduct and alleged criminal offences."