Exeter car park price board hidden behind ticket machines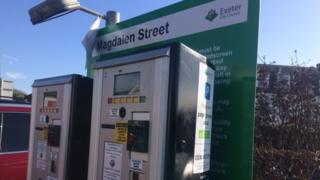 Drivers have been left confused by a new car park charging board that is largely hidden behind ticket machines.
The new board at Exeter's Magdalen Street car park is lower than the previous one, meaning the prices are difficult to find.
Exeter City Council said: "We are aware and are trying to rectify it."
"We are showing some discretion for people who have problems paying for the car park".
More on the 'hidden' car park price board and other Devon news
The new lower board also has the terms and conditions for the car park on it.
'A boo-boo'
One man trying to use the machine said: "Before the prices were on the top and anyone could see them.
"Now it's very very difficult and I'm afraid the council has made a bit of a boo-boo here."
The council said the price for the car park is £1 per hour, and that it was "working to get the contractor to change the fixings on the board".