Man's eyes 'seriously damaged' by spray in Dawlish robbery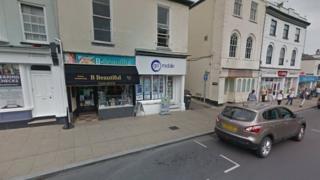 Robbers sprayed a man in the face with a substance causing "serious damage" to his eyes, police have said.
The man was attacked by two men in Dawlish town centre on Monday afternoon while bringing a shop's takings to a bank, Devon and Cornwall Police said.
The victim was assaulted and robbed by two men who had their faces covered.
He was taken to hospital but it was "too early to state what the lasting damage or impact will be", police said.
The latest on this and other stories in Devon
Officers said the victim, in his 50s, was taken to hospital in Exeter for treatment following the "despicable crime" at about 14:30 GMT on Monday.
He was assaulted near the junction of The Strand and Lawn Hill by men with their faces covered "with either scarves or balaclavas and hooded tops", who then ran off with the cash.
Devon and Cornwall Police said the victim had "some sight back in one eye".
Det Insp Mike Jones said: "This was a shocking robbery at a time when The Strand was busy with shoppers going about their daily business."