Twin sisters from Devon celebrate Christmas babies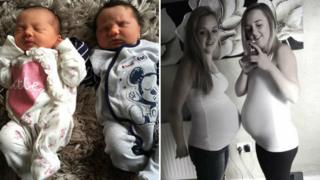 Twin sisters are celebrating the birth of their babies within hours of each other on Christmas Eve and Christmas Day.
Kelly Ackrill and Ashleigh Davidson, 28, from Ivybridge in Devon, had due dates two weeks apart in January.
But as soon as Kelly went into labour, so did Ashleigh and their babies River and Louella followed soon after.
Ms Ackrill said: "We are really close, we spend a lot of time with each other - but this is amazing."
More on the Christmas babies, plus more Devon and Cornwall news
River was born at 18:40 GMT on Christmas Eve at Derriford Hospital in Plymouth and his cousin Louella followed at 16:00 GMT the following day.
Both sisters are hairdressers and, although not identical, look alike. But there the similarities end.
"We have never experienced anything like it before but it's really odd how they are so close together," said Ms Ackrill.
"At 30 weeks I went into hospital having contractions.
"A few days before I went into hospital Ashleigh messaged me and asked me if I was OK because she kept on getting pains.
"She was convinced she was feeling the same labour pains that I was feeling.
"Ashleigh had been having contractions on Christmas Eve but it was not regular.
"Then I gave birth and the next day she went in and gave birth."
Ms Ackrill now has three sons, including River, and one daughter with partner Aaron Craig. Her sister Ashleigh now has two daughters with husband Tim.
The sisters also found out they were pregnant within days of each other.
"I had a feeling that we we would give birth closer than two weeks apart anyway," added Ms Ackrill.
"There's definitely something there."