'Running amok' sheep cornered by cops in Plympton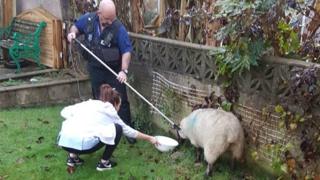 A rogue sheep had a brush with the law and a ride in a patrol car after being found "running amok" in Devon.
Police officers managed to corner the woolly-wanderer in a back garden in Priory Drive, Plympton, on Thursday morning.
Posting on Facebook the officers said it was "all good fun".
The animal is being cared for on a local farm until its owner can be found. In the meantime it has been baa-ed from further roaming.
A force spokesman said: "The woolly fella was running amok all over the area, it even attempted to get into the dentist surgery. We were reliably informed that no appointment had been booked."