'Bored Devon OAP' Joe Bartley's Christmas party cheer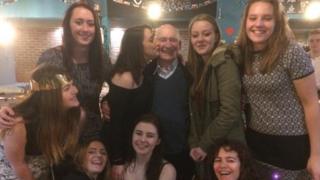 A "bored" pensioner who advertised for a job at the age of 89 has been to his first Christmas party in his new job.
Joe Bartley, 89, from Paignton in Devon, put an ad in the Herald Express pleading for a job to stop him from "dying of boredom".
The Cantina restaurant made him a waiter and kitchenhand and on Wednesday night he got a kiss from staff at the Christmas party.
"They are lovely people here, I had a great time," he said.
More on Joe Bartley's Christmas do, plus more Devon and Cornwall news
Former serviceman Mr Bartley said he had felt very lonely after his wife Cassie died two years ago, which spurred him to place the unusual ad.
"Last night was our Christmas party which Joe enjoyed very much," the Cantina posted on its Facebook page.
"Joe has worked two full weeks now, he's working the 20 hours a week he asked for and is really enjoying it.
"He does a variety of tasks around the place. One day he'll be peeling potatoes the next polishing cutlery.
"He's getting to meet people and is a very useful member of the team."
Mr Bartley said: "I do all kinds of things here - you do what has got to be done and don't wait for people to ask you.
"I'm 90 next year and I hope to still be here for that party."
His wages are going towards his rent for a flat so he does not rely so much on housing benefit.
"That was the other reason for getting a job," he said.
"I like to pay my own way."