Leaking £7m Dartington eco-school is demolished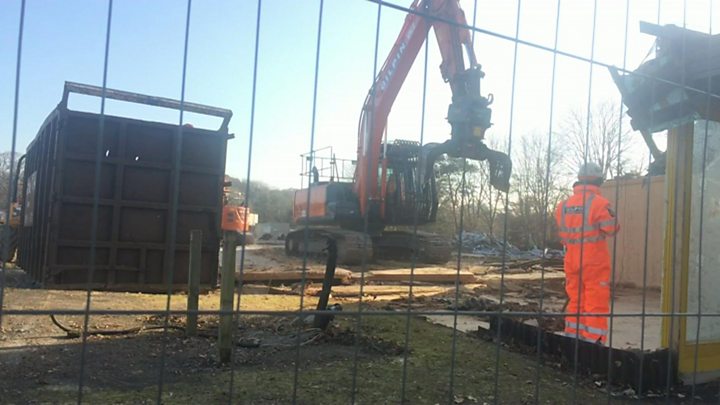 A £7m "zero-carbon" school which closed after water started leaking into the buildings is being demolished.
Diggers and dumper trucks are turning the six-year-old former Dartington Primary School near Totnes in Devon into rubble.
More than 300 children have been in temporary buildings since July 2014.
Building of a new school will start in January and education authority Devon County Council is seeking compensation from the architects and builders.
More on the school demolition, plus more Devon and Cornwall news
Head teacher Jill Mahon said 90% of the material would be recycled locally.
"How can you be sad when it is being reused," she said.
"We are seeing a whole process which couldn't be much richer for the children."
The demolition has been included in the school curriculum with visits from site workers and children learning about recycling.
The children are expected to move into the new school early in 2018.
The former school buildings were called "visionary" when they opened in 2010 with solar panels to power classrooms and rainwater recycling.
But according to a report commissioned by the council, the building started letting in water shortly after it was finished.
The report blamed the design and highlighted "complexities within the rainwater harvesting system".