Fugitive Devon reality TV star tracked down by police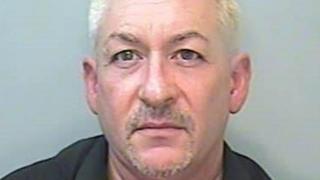 A fugitive reality TV star has been tracked down by police and jailed having been on the run for two months.
Christian Taylor, 50, who starred in the Channel 4 show The Hotel, had been sentenced in his absence in September for stealing more than £13,000 from a holiday camp.
Police tracked him down in Blackpool where he was working in a hotel.
His two-year sentence was extended by two months at Exeter Crown Court for failing to attend his trial.
The police nicknamed him the Scarlet Pimpernel because he was so adept at changing his name and appearance.
'Bogus cocktails'
Taylor was working as a bar supervisor at the Twitchen House Holiday Park at Mortehoe, North Devon, in the summer of 2015 when he committed his fraud.
He recorded fake refunds for customers' cocktail bills in the computerised till system and pocketed the money himself.
The refunds totalled £13,467.60 before he was caught.
He failed to attend his trial in September where he was found guilty of one charge of theft by an employee and sentenced to two years in his absence.
Having been traced by police, he appeared at Exeter Crown Court.
Taylor, formerly of Queens Walk, Barnstaple admitted committing a bail act offence by failing to attend his trial and was jailed for a further two months.
Mr Richard Crabb, defending, said that after being released on bail the day before his trial, Taylor had returned to Barnstaple but then decided to leave the area after an argument with his partner.
When he was starring in The Hotel, filmed in the Grosvenor at Torbay, he called himself Christian Scott Lee but his original name is Nigel McCartney.