Paralympics marine wins damages in Q fever claim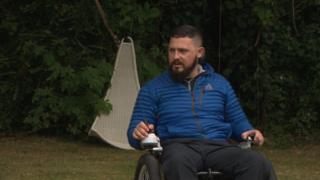 A Royal Marine who caught a serious illness while serving in Afghanistan, has won his case for compensation.
Phillip Eaglesham 35, from Taunton, contracted Q fever in 2010. He became weak and lethargic and now uses a wheelchair.
He claims the Ministry of Defence (MoD) did not do enough to prevent him developing the disease.
Cpl Eaglesham won his case when a High Court judge refused to give the MOD more time to submit its defence.
More on the Q Fever story, and other news
---
What is Q fever ?
Q fever is a bacterial infection that can be spread to humans by infected animals - most commonly by sheep, cattle and goats.
The infection is found worldwide, but cases in humans are rare in the UK. About 50 cases of Q fever are reported in the UK each year.
Most people with Q fever will either have no symptoms or mild flu-like symptoms that pass within two weeks.
However, the symptoms can sometimes last several months and occasionally the infection can lead to life-threatening problems if it spreads to other parts of the body such as the heart.
Source: NHS Choices
---
Cpl Eaglesham, originally from Dungannon, County Tyrone, took part in the Rio Paralympics.
He caught the disease while on tour with Taunton-based 40 Commando in 2010 and became unwell as he travelled back to the UK.
Sitting at the High Court, Mrs Justice Andrews refused a MoD request to have more time to submit documents, consequently finding in Cpl Eaglesham's favour.
She said "Even though this was not a case of a deliberate flouting of a court order it is not an appropriate case in which to grant the defendant any further indulgence."
Cpl Eaglesham's lawyers want compensation of more than £1,000,000 to fund future care, house adaptations and to cover his inability to work. The amount will be decided at a future hearing.
Speaking after the judgement Cpl Eaglesham said: "It would be amazing have a family life again rather than my wife being my full time carer".
The MoD said the requested delay was because it had found more documents than first thought, there was a shortage of resources and there were concerns over national security.
It has no automatic right of appeal, but can ask for a hearing to secure one.