Missing teenager Arthur Heeler-Frood found 10 miles from home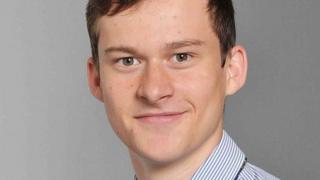 A 15-year-old boy who left a note saying he was "bored" with his life before he went missing two months ago has been found safe 10 miles from home.
Devon and Cornwall Police confirmed Arthur Heeler-Frood from Axminster, Devon, was "safe and well".
He was found at Honiton train station after police were alerted by a member of the public shortly after 16:30 GMT.
Arthur is now being reunited with his family, the force said.
More on the missing teenager, and other news
He left the family home on the 6 September and failed to turn up at school.
The next day his parents received a letter from the teenager saying he would be back within a year and not to try to find him or make him come home.
Arthur Heeler-Frood's letter in full:
To Mum and Dad,
I have run away because I am bored of my life. Please don't try to find me or make me come home.
I don't know how long I will be away for but it won't be longer than a year. You will find my school uniform in a bin bag in a small barn in the field on the green, down the road near Membury Church.
My bike is chained to the fence and there is a spare key to the lock on the window. Please apologise to the restaurant and tell them that I will no longer be able to work there.
I know you will be upset but understand that I have to do this,
From Arthur.
Police have not revealed any further information about where Arthur has been.
Arthur took £350 in cash with him, but did not take his phone, passport or many belongings.
Officers thanked the member of the public who called in and everyone who assisted with the appeal to find Arthur.