Sat-nav lorry spills pig flesh on Devon road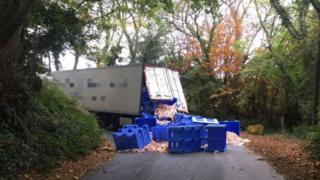 A lorry spilled pig flesh across a country lane as it followed a sat-nav diversion.
The lorry shed its load in Honiton, Devon, early on Thursday morning when it negotiated a hill.
Police said the driver used the sat-nav system following the closure of the A30.
Inspector Matt Helm said the steepness of Lower Marlpits Hill caused the lorry's load to shift and rip the vehicle's back doors off.
More on the pig flesh story, and other Devon and Cornwall news
The road is expected to be closed for most of the day.
Insp Helm said: "It does smell a lot.
"The road is a country lane with a 90-degree bend and a 30-degree gradient and the truck lost traction.
"A car would go up in first gear."
An environmental clean-up company has been called to make the area safe.