Romanian who smuggled Afghans into Plymouth on ferry is jailed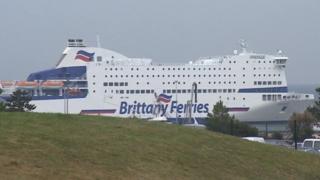 A Romanian man caught smuggling nine people including children into the UK has been jailed for four years.
Mircea Sandu hid two families on a lorry aboard a Brittany Ferries ship from Roscoff to Plymouth on 9 October, Plymouth Crown Court heard.
Border guards found nine people from Afghanistan including three children and a baby hidden on the Armorique.
Sandu, 31, who had been living in Spain, admitted facilitating illegal immigration into the UK.
More on the man jailed for smuggling, and other Devon news
The court heard Sandu had no money and was paid by smugglers to run illegal immigrants into the UK.
A Home Office spokesman confirmed the families were discovered in a vehicle at the ferryport.
He said: "They have been moved into temporary accommodation while their cases are progressed in line with the immigration rules."