Devon protesters 'see red' over feared NHS cuts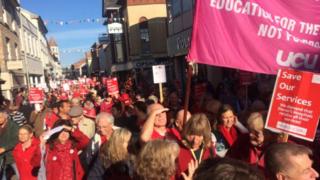 Hundreds of people have attended a march in opposition to proposed cuts in services at a hospital
The Devon Sees Red march, held in Barnstaple, was to highlight concerns over potential cuts at North Devon District Hospital.
A document leaked to the BBC showed that stroke, maternity and neo-natal provision could feature in cost-cutting plans.
The hospital said "no decisions" have been made about the future of services.
MP Peter Heaton Jones said: "The community has really come together to say that we will not put up with any idea of cuts to acute services.
"It's clear the last place we should be looking for cuts is in north Devon - our geographic circumstances, the deprivation we have here, the travelling times. I'm fighting that very hard."
Dr Alison Diamond, chief executive of Northern Devon Healthcare NHS Trust, said change is needed to improve patient outcomes.
But, she added: "No decisions have been made yet in relation to any services at North Devon District Hospital, and the process for determining what these services will look like has not begun.
"Decisions about the future of health and care services need careful planning and this will involve all communities."