Police threaten legal action over lack of mental health beds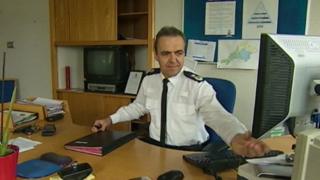 A chief constable has vowed to stop "unlawfully" holding people with a mental illness in police cells because the NHS has no beds for them.
Shaun Sawyer, chief constable of Devon and Cornwall Police, wrote to Devon Partnership NHS Trust to say it would be held to account in future.
The letter, leaked to the Express and Echo, says legal action may be taken if the situation is not resolved.
The trust said it was disappointed, but accepted more needed to be done.
Mr Sawyer said while it was "unedifying" to sue a public body, he would do so if necessary.
More on this story and other Devon and Cornwall news
"It's contingent and hopefully something that would never occur because it's public money," he told BBC News.
Mr Sawyer said the number of "136 detentions" - where police can remove someone they believe to be mentally ill to a place of safety - has reduced, but the current situation was unacceptable.
He claims beds are "not being made available effectively, speedily or efficiently in enough cases".
"If somebody comes to harm, technically I'm holding them in those cells unlawfully."
While declining to divulge the contents of the letter, Mr Sawyer said it "made it clear" that should harm occur because the NHS had not provided a bed, it was "unreasonable" for the police to take responsibility.
"We've had people in cells for four days - and that is just not acceptable in anyone's book," Mr Sawyer said.
He insisted it was a situation for the NHS and not the police to resolve.
"To be candid, the NHS needs to move quicker on this."
Trust Chief Executive Melanie Walker said she was disappointed by the chief constable's stance as all public services were under "huge pressure".
She said she would be speaking to Mr Sawyer to clarify a difference in the number of detainees who had been held longer than necessary.
"Of course, every single person who shouldn't be in a police cell is one too many," she added.