Owner of sunglasses-wearing Devon dog Jaxs appeals for peace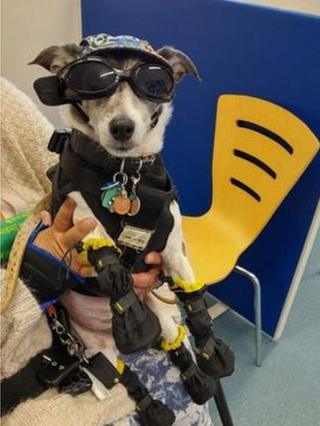 A Jack Russell with an eye condition is getting unwanted attention because he wears protective dark glasses.
Jaxs wears the glasses on the advice of a vet due to inflammation of his eye-lids. An allergy to grass means he also wears boots on his paws.
But the paparazzi-style treatment is making Jaxs scared of people, owner Maria Domanic, of south Devon, said.
"We've been surrounded by people shoving cameras in his face," she added.
"He is 14 and he deserves a peaceful life."
More on Jaxs the Jack Russell, plus more Devon and Cornwall news
Jaxs suffers from immune-mediated blepharitis, which cause cysts in his eyes.
Ms Domanic, 65, said that when she takes him for a walk near her Kingsbridge home she can be surrounded by people taking pictures.
She said: "I get people walking behind us with their cameras, talking and laughing as if I did not exist.
"It's really intimidating and now, when he hears voices, he hides his face.
"It upsets me - you would not treat a human with a disability in the same way, so you should not laugh at a dog."
Vet Jim Carter, of the Abbotskerswell Veterinary Practice where Jaxs was diagnosed, said: "Glasses are not easy for dogs to keep on, but the principle is the same for dogs as it is for humans - they protect the eyes from UV rays and if you have sore eyes it helps."
Jaxs has a number of other health issues, including heart disease and airway problems.