Appeal over Ipplepen peregrine falcon shooting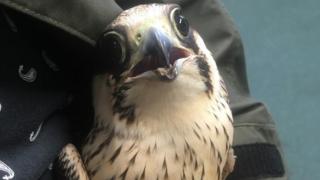 A reward has been offered for information after a peregrine falcon was shot in a "barbaric" pellet gun attack.
The rare bird of prey - which is a protected species - suffered a fractured wing when it was hit with an air rifle pellet.
It was found near Ipplepen, near Newton Abbott, Devon, on 23 August.
The RSPB has offered a £1,000 reward to encourage witnesses to come forward.
Devon and Cornwall Police said the shooting was "incredibly hard to investigate" with no witnesses.
Cornwall's police wildlife crime officer, Josh Marshall, said someone in the local community would "hold the key" to solving the crime.
"This peregrine falcon will have been shot by someone having a clear motive to destroy this rare bird of prey," he said.
Tony Whitehead, from the RSPB, said: "Whatever drives a person to do this, it's important to understand that killing birds of prey is not only barbaric, it is also against the law.
"This makes the perpetrators, however they seek to justify their behaviour, no more than common criminals and we'd expect them to be treated as such."