Czech gang guilty of Plymouth 'slaves' trafficking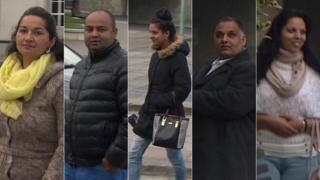 A gang who trafficked Eastern European "slaves" to the UK has been convicted after a two-month trial.
The victims, who were brought to Plymouth from the Czech Republic, were beaten, punched and told they would be killed if they tried to escape.
Five Czech nationals denied trafficking charges at Plymouth Crown Court.
Ruzena Tancosova, 36, Petr Tancos, 37, Nela Dzurkova, 28, Martin Tancos, 37 and Katerina Kurejova, 37, were found guilty of all charges.
For more on this story, and other Devon and Cornwall news.
Their victims had to forage in bins for food and some had to live in cupboards and were often humiliated, the court heard.
The gang charged victims £1 to use the toilet and made them work in factories, car washes and as domestic slaves across Devon and Cornwall.
Michael Mather-Lees QC, prosecuting, told the court trafficking was "a spider's web that goes across continents".
In court, Ruzena Tancosova was described as the "godmother" of the gang, while Petr Tancos was the "enforcer" who used a baseball bat to assault and threaten the victims.
Nela Dzurkova and Martin Tancos arranged the trafficking of the victims and controlled their finances, assisted by Katerina Kurejova.
Police were alerted to their plight in February 2014 when two victims contacted the authorities to try to escape.
Officers began a seven-month surveillance operation - dubbed Operation Triage - and carried out a series of raids on homes in Plymouth in September 2014.
Police estimate dozens of men were trafficked over several years making, the gang hundreds of thousands of pounds.
Charges
Ruzena Tancosova, 36, of South View Terrace - charged with conspiracy to traffic for the purpose of exploitation, requiring a person to perform forced or compulsory labour and acting as a gangmaster
Petr Tancos, 37, of South View Terrace - charged with conspiracy to traffic for the purpose of exploitation, requiring a person to perform forced or compulsory labour
Nela Dzurkova, 28, of South View Terrace - charged with conspiracy to traffic for the purpose of exploitation
Martin Tancos, 37, of Wolsdon Street - charged with conspiracy to traffic for the purpose of exploitation and acting as a gangmaster
Katerina Kurejova, 37, of Wolsdon Street - charged with conspiracy to traffic for the purpose of exploitation