Steam train enthusiast injured in track fall taking photos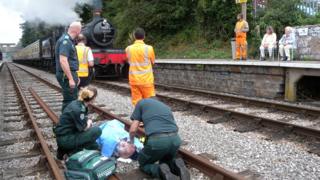 A rail enthusiast fell onto the tracks in front of a steam train he was photographing while on holiday.
Malcolm Johnstone fell from the platform at Goodrington Sands station in Devon on Wednesday.
The Lydham Manor Steam Locomotive had just entered the station and stopped 275m (300 yards) from the man.
Paramedics checked Mr Johnstone, who is from Worcestershire, and took him to Torbay hospital with suspected neck injuries.
The station said in a statement: "Passengers alerted the driver, and the train stopped with just the engine on the far end of the platform some 300 yards away."
Devon High Sheriff Angela Gilbert caught the incident on camera as she was spending the day with South West Ambulance.
Mr Richardson was kept in hospital overnight as a precautionary measure.