Parents need to raise £4,000 after school roof lead theft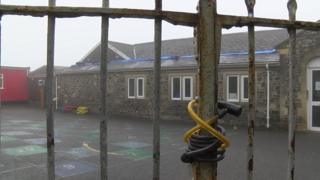 Parents will have to raise £4,000 to pay a primary school repair bill after lead was stolen from its roof.
The lead was stolen from West Down School, near Ilfracombe, north Devon, during the summer holidays.
The school's insurance policy does not cover theft where there "is no evidence of forcible entry" to the building and tight budgets mean the school can not cover all the costs.
Police said one person was arrested and the investigation continues.
The West Down parish hall said £4,000 was "a lot of money for a small village school on a tight budget".
They are running a series of fundraising events so the community and parents can help cover the costs of the new roof.
Read more on this story and other news in Devon.
Parent Jayne Lewis said: "It's really upsetting and quite shocking. We spent a lot of the time last year getting the school redecorated - parents came in, the children helped, and we were looking forward to coming back to a lovely, sparkling new school."
"This has really put a sour taste in our mouths and now we're left to sort out a new roof."
Year five class teacher Tim Spelman said: "Budgets are tight at the moment and really we could do without the hassle of the roof being taken."
Rain water is already causing damage inside the school.
A Devon County Council spokesman said: "We arrange insurance cover for our schools at the best price we can.
"They can choose to buy the cover or make alternative arrangements. The policy doesn't cover theft where there is no evidence of forcible and violent entry to or from the building."