Tree branches prevent Chillaton car cliff plunge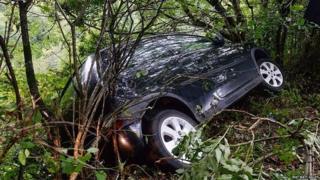 The occupants of a car escaped unhurt after it went off the road and was left hanging over a steep cliff.
Fire crews were called to the accident at Chillaton, near Tavistock, at about 18:30 BST on Saturday.
An eye witness said tree branches prevented the car from plunging 70ft (21m) down the cliff after it left the road on a steep bend.
Devon and Somerset Fire and Rescue Services said the car was winched to safety from its "precarious position".
"There was a sheer drop with just trees and branches holding the car up," Matt Gilley said.