Hooe Lake deaths: Memorial for car estuary plunge pair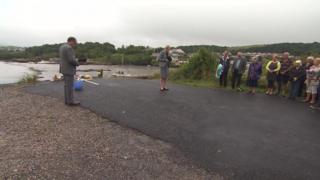 A memorial service has been held for a man and woman who died when their car plunged into an estuary.
The elderly pair, who have not been formally identified, were killed after their car came off the road and fell into Hooe Lake in Plymouth on Thursday.
About 60 people attended the service in Hooe near the spot where the crash happened.
The chairman of the residents association said the turnout showed the community's "solidarity to the family".
The death of the local man and woman was a "tragic loss", John Wheeler from the Mountbatten & Turnchapel Residents Association said.
"Terrible accident but it's not that anyone round here had not thought of it and said 'it's just an accident waiting happen'", he said.
Plymouth City Council has said it is looking into how safety can be improved at Hooe Lake after local residents called for some form of barrier to be erected to stop a similar incident happening again.