Men to cross English Channel in pedal-powered submarine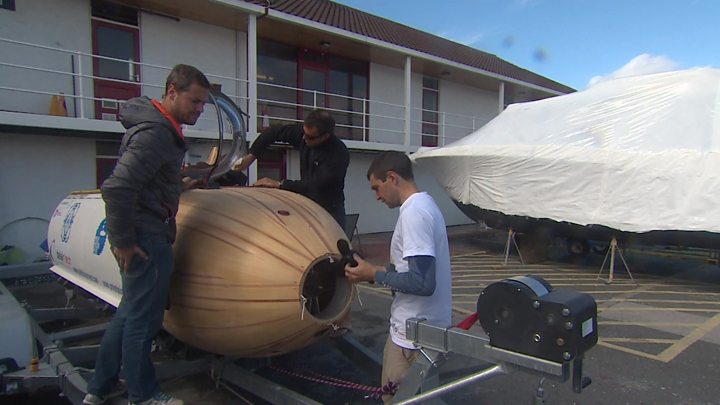 Two men are to attempt to pedal a submarine across the English Channel.
French engineers Antoine Delafargue, 33, and Michael de Lagarde, 36, plan to travel 135 nautical miles (250km) from Plymouth to St Malo on Friday.
The pair, who have designed and built the vessel themselves, told the Plymouth Herald they expected the trip to take seven days.
"It's going to be a very physical challenge", they said.
"It's a big 3.5 tonnes [3,500kg] bicycle, there are two pedalling sets, one at the back and one at the front and we will switch seats every four hours."
The pair will pedal between between eight and 12 hours a day each while the other sleeps, to power the propeller inside the 6m (20ft) long vessel.
In 2012, 2014 and 2016 the UK hosted the International Submarine Races event for human-powered vessels.
The submarine, which has taken two years to build with the help of Plymouth designer Paul Moorhouse, will travel along at about 100m (328ft) below the surface.
Mr Delafargue has spent more than £100,000 funding the project but said it was a "childhood dream" come true.