Dozens of dead pigeons 'lined up' on Devon road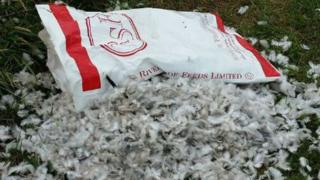 More than 40 dead pigeons have been found lined up in the middle of a major road through Devon.
Devon and Cornwall Police said dozens of birds had been "placed" in a line along the central markings of the A35, about 100 yards apart.
A "large amount of feathers" and a discarded seed bag, believed to have been used to move the birds, was found nearby.
It was too early to say how they died, the force added.
For the latest on this story, click here
PCSO Steve Mingo said witnesses are being sought.
"We are also asking for any pigeon fanciers in the area to check their flock to make sure all are accounted for."