Police fairground sex warning newsletter 'incredibly unfair'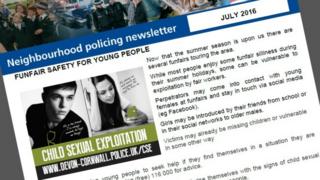 A police newsletter warning children could be at risk of sexual exploitation by fairground workers has been branded "incredibly unfair".
Devon and Cornwall Police admitted evidence for the claim was "largely anecdotal".
Operator Anderton and Rowland said the force had "singled out" fun fairs and there had been no reported incidents.
The letter, which has now been withdrawn, was sent to residents in Plympton, the Plymouth Herald reported.
More on this story and other news from Devon and Cornwall here
Simon De Vey, from Anderton and Rowland, said: "Safety is paramount and our vetting procedures are very, very strict."
A police statement said fun fairs had "historically led to some intelligence suggesting those attending may be at risk of exploitation".
It said the message was to provide general safety advice for parents and young people attending such events.
'Bend over backwards'
"We would ask all parents and young people themselves to take all common sense steps to ensure they have a safe summer," the force added.
Mr De Vey said the funfair firm had voluntarily paid £1,500 for a police presence at its attraction in Paignton.
"It is incredibly unfair for police to single out fun fairs without any evidence or prosecutions," he said.
"All our children's rides are operated by family members, while other ride operators are properly background checked and known to us.
"We bend over backwards and do everything we can to ensure children's safety.
"The truth is that in any large open space - including parks - young people could be vulnerable to exploitation."