Prickly problem prevented for Paignton water flume patrons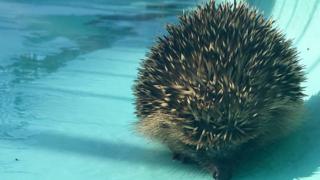 A lifeguard at a water park has averted a potentially painful prickly problem after finding a hedgehog inside a water flume.
The discovery was made by Emily Daniels during the daily safety check of the flumes and slides at Splashdown Quaywest in Paignton.
"It wasn't camouflaged at all, so it was a bit of a shock to see it there," she told BBC News.
The creature has now been relocated to a nearby Devon hedgerow.
More updates on the hedgehog, and other Devon and Cornwall news here
"I've no idea how it got there but it hadn't climbed far as it was near the bottom of the flume," Ms Daniels said.
"I'm not really an animal person, but it was quite small so I got a pair of gloves from the first aid station and managed to pick it up."
'Been painful'
Operations manager Jon Lees said although one or two hedgehogs had been seen in the grounds of the water park, to his knowledge, they had never attempted to climb the 60ft (18m) flume known as Devil's Drop before.
"It was lucky Emily spotted the animal, as it could have been painful for someone coming down the flume - and it wouldn't have done the hedgehog much good," he added.
If the normally nocturnal creature had slipped down the flume into the water, it would probably have survived as hedgehogs can swim, but the RSPCA said it was lucky the lifeguard had been so vigilant.