Brixham Express commuter ferry starts operating 19 months later than planned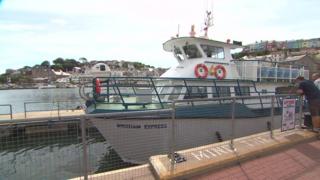 A fast ferry service between Torquay and Brixham has started operating 19 months after it was due to start.
The Brixham Express was due to begin operating in December 2014 but was delayed because of safety certificate issues, its owners said.
Stand-in ferries ran for the first five months and were subsidised by a government grant of £544,000.
The catamaran is able to cross the Bay in 15 minutes and accommodate 40 passengers in winter and 100 in summer.