Road worker crash driver Anthony Tompkins spared jail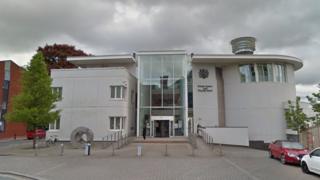 A delivery driver who killed a workman when his van veered into roadworks has been given a suspended jail term.
Anthony Tompkins admitted causing the death of road worker Steven Tolly in 2013 by careless driving.
An earlier trial for causing death by dangerous driving was dismissed last year.
Sentencing, Judge Graham Cottle said he had been "placed in a difficult and unsatisfactory position" by Tompkins' plea to the less serious offence.
Exeter Crown Court heard Tompkins had opened an eBay app on his phone a few minutes before the crash but has always denied being distracted by it.
Judge Cottle told Tompkins, of Tideford, Cornwall, said he was forced to sentence on the basis of the plea to causing death by careless driving.
"I make it quite clear that if I was sentencing on the basis of dangerous driving and driving while using a mobile phone device, you would receive a substantial prison sentence."
Tompkins was given a 12-month sentence, suspended for two years.
Weaving between lanes
A dashboard mounted phone seized by police showed Tompkins had opened the eBay app shortly before the crash.
He was delivering furniture when he crashed on the North Devon link road in January 2013 just after another driver had seen his van weaving between lanes.
He was covering up to 1,500 miles a week delivering furniture all over Britain and had his own business trading furniture on eBay.
His van was travelling at around 55 mph when it veered for no apparent reason into a coned-off area and hit a large cauldron full of hot tar where Mr Tolly and two other men were working.
Mr Tolly, aged 48, from Tiverton, who was due to marry his long time partner Janice Rainey in September 2013, died six days later at Derriford Hospital in Plymouth.
Tompkins was also ordered to do 200 hours unpaid community work and was banned from driving for four years.