Police power tool attacker Stephen Yabsley sentenced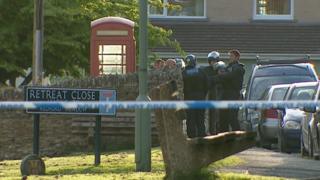 A man who attacked two police officers with an angle grinder has been detained indefinitely.
Stephen Yabsley admitted two counts of grievous bodily harm during a four-hour stand-off at his home in Kingsbridge, Devon in May 2015.
The officers were left with arm injuries when they responded to reports of a man making threats at the house.
Yabsley, 54, will be sent to Broadmoor Hospital.
Ian Lawrie QC said there was a high and significant risk of him offending again.
More on the sentencing, plus more Devon and Cornwall news.
PC Ryan Hayhurst and PC Jonathan Lonsdale both required surgery to serious injuries.
They, along with two other officers involved in the incident, were recognised by Devon and Cornwall Police in June with bravery awards.
"I had no doubt that Stephen Yabsley was about to kill me… I thought I was about to die", PC Hayhurst said in a statement.
Detective Inspector Simon Costin, senior investigating officer, said: "No sentence can accurately reflect the significant impact this has had on all the police officers involved.
"Two of our officers sustained very significant, life-threatening injuries when Stephen Yabsley attacked them with an electric circular saw.
"If it wasn't for the extreme professionalism of not only the two injured officers, but the other officers in attendance, this could very well have resulted in a fatality.
"Our officers are called upon to deal with dangerous situations every day.
"All too many of these incidents could result in officers being injured."