Murder accused Charles Broom found dead in prison cell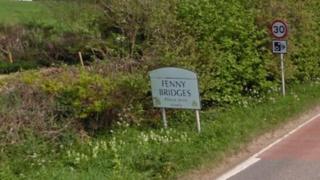 The case against a man accused of murder has been formally discontinued after he was found dead in a jail cell.
Charles Broom, from Honiton in Devon, was found hanging from bed sheets at HMP Exeter on 21 June.
The incident happened three weeks after he pleaded guilty to the manslaughter of 71-year-old Hilda Oakland.
Broom, 61, of Millhead Road, admitted killing Ms Oakland on the basis of diminished responsibility but denied murdering her.
Broom was awaiting trial on the murder charge when was found dead last month.
Broom had been due to face trial at Exeter Crown Court later this month to determine whether he was suffering from a mental disorder when he killed Mrs Oakland on 2 December.
Ian Kelcey, who represented Broom until his death, said at Exeter Crown Court on Monday: "Mr Broom was found dead in his cell at HMP Exeter on 21 June. He was hanged by a ligature made of bed sheets around his neck, wrists and ankles.
"There was no-one else in the cell and no sign of a struggle. There was no suicide note. The body was formally identified by Det Sgt Sally Wootton."
The body of Mrs Oakland was found in a 4x4 vehicle in a field off the A30 at Fenny Bridges near Honiton.