Lynx wild cat in Dartmoor Zoo escape alert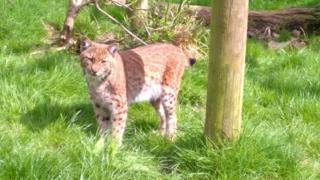 Police have launched an air and sea search for a lynx wild cat which has escaped from a zoo.
Officers have warned people not to approach the Carpathian Lynx, which escaped from Dartmoor Zoo in Devon by digging out of its enclosure.
The cat, named Flaviu, is the size of a large domestic cat and could be dangerous if cornered, police said.
A Dartmoor Zoo spokesman said: "Our main concerns now are for the safety of the public and the welfare of Flaviu."
More on the escaped Lynx, plus other Devon and Cornwall news
The zoo took delivery of the animal on Wednesday from Port Lympne wildlife park in Kent and settled him into his new house at 19.30 BST.
On Thursday morning they discovered it had escaped. No trace of it has been found in the zoo.
A Dartmoor Zoo spokesman said: "He is extremely timid and his instinct will be to stay away from people, so we are asking the public to be vigilant and inform the police on 999 if they see him."
Escapes from Dartmoor Zoo:
2006 Jaguar escaped from pen and into a tigers' enclosure before it was sedated by keepers
2007: Wolf clambered over the top of its enclosure before being recaptured
A police spokesman said: "If members of the public sight it they should call 999 immediately.
"The animal should not be approached as it could become dangerous if alarmed or cornered."
Children at the nearby Little Orchard Montessori School were told to stay inside earlier.
A police helicopter joined the search and officers conducted a house-to-house operation in the area to offer advice.