Exeter judge criticises prisoner's nine-month psychiatric care delay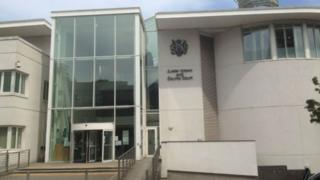 A prisoner with serious mental health problems has been moved to a psychiatric hospital after a judge criticised the delay in treating him.
Jack Davey had been left on remand at Exeter Prison since his arrest in October 2015 because no bed was available in the south west of England.
Davey, 21, of Exmouth, admitted having a knife during an affray at a guest house in Exeter, in October 2015.
At Exeter Crown Court, Judge Ian Lawrie QC said the delay was "extraordinary".
Judge Lawrie accused the government of not wanting to part with money.
'Lot of pressure'
Following his arrest over the incident in Queens Crescent, Davey had been diagnosed as needing immediate psychiatric care by two doctors.
Now, the defendant, of Morton Road, Exmouth, has now been transferred to Langdon Hospital in Devon for treatment.
Recorder John Williams said: "I am delighted that progress has been made."
Nigel Wraith, defending, said: "This young man has spent some nine months in custody already and it is hoped the psychiatrists can agree the way ahead.
"It was recommended he be transferred to a psychiatric unit some time ago and it has taken quite a lot of pressure from the court to ensure this has been done."