Devon MP Ben Bradshaw received death threats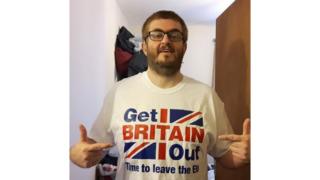 A man is facing jail after pleading guilty to leaving death threats and a "message of venom" on a Devon MP's answerphone.
Geoffrey Farquharson, 37, of Exeter, left a message for Ben Bradshaw in Westminster on 15 June, the day before Jo Cox MP was shot and stabbed.
The two-minute rant ended with Farquharson warning the Labour MP for Exeter: "I will kill you."
The case has been adjourned until 16 August for psychiatric reports.
At Exeter Magistrates' Court, Farquharson's lawyer, Sue Snow, said her client sounded "unbalanced and upset" as he made the call.
During it he can be heard calling Muslims "a problem" and making derogatory remarks about Mr Bradshaw's sexuality.
Farquharson, who admitted sending a communication of an indecent or offensive nature, had introduced himself on the call giving his name and full address.
District Judge Diana Baker said he faced jail for the offence, which was "extremely offensive and very unpleasant".
In a victim impact statement, Mr Bradshaw said he had received death threats before and was not unduly concerned.
He said following the murder of Jo Cox anxiety had been heightened over violence towards public servants.
District Judge Baker told Farquharson he was bailed until August when he would be sentenced and was warned not to contact Mr Bradshaw or his office or go to Westminster.