Derriford trucker death: Lee Jane 'died trying to save others'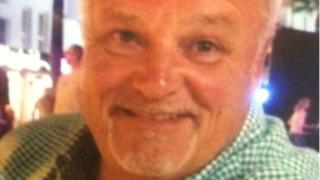 A lorry driver who was crushed under the wheels of his runaway truck died "trying to prevent injury to others", said his family.
Lee Jane, 56, had been trying to stop the vehicle when he was pulled under it in Plymouth, an inquest heard.
His family said after the inquest that they were "very proud" of Mr Jane.
The inquest jury in Plymouth returned a verdict of accidental death after hearing that Mr Jane had left the handbrake of the vehicle off.
Click here for live updates on this story
Mr Jane died of multiple injuries in June last year when he was pulled under the truck at Derriford Hospital, the inquest heard.
The jury was told he failed to secure the truck's handbrake before hitching up a trailer.
The weight of the trailer pulled the truck down a hill before hitting a wall of the hospital.
Witnesses said Mr Jane tried unsuccessfully to climb back into the cab of the moving vehicle, but was dragged under it.
Nurses and other onlookers ran to help Mr Jane but he had suffered severe injuries and died soon afterwards.
Mr Jane's family said in a statement that they "would very much like to thank those who attended Lee after this tragic accident".
Mr Jane's employer's, waste firm Viridor, said his death was a "tragedy" and "deeply felt by colleagues".
"The wellbeing and safety of our employees is always an utmost priority," said Viridor chief executive Ian McAulay.