Plymouth driver died trying to stop runaway truck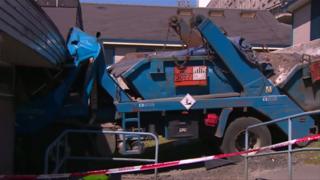 A driver was crushed under the wheels of his skip lorry as he tried to stop it rolling away, an inquest has heard.
Lee Jane, 56, died in June last year when he was pulled under the truck at Derriford Hospital in Plymouth.
Witnesses said Mr Jane had tried unsuccessfully to climb back into the cab of the moving vehicle, but was dragged underneath as he did so.
Nurses and other onlookers ran to help Mr Jane but he had suffered severe injuries and died soon afterwards.
'Almighty bang'
Click here for live updates on this story
"The lorry crashed with an almighty bang, like it had exploded," one witness told the inquest at Drake Court, Plymouth.
Nurse Melissa Williams saw the Virador waste firm driver standing beside the lorry when it started rolling down the hill.
"I thought, Oh my God there's no driver", she said in a statement.
Another witness, James Squante, said Mr Jane had tried unsuccessfully to get back into the cab and then tried pulling at the lorry to stop it but was pulled under the wheels.
It rolled about 70m (230ft) before hitting Derriford hospital's radio studio.
The inquest continues.