Measles outbreak hits 13 pupils at Devon school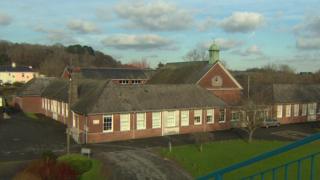 Thirteen cases of measles and another 10 probable cases have been found at a Devon secondary school.
Parents at King Edward VI Community College (Kevicc) in Totnes have been urged to get their children vaccinated.
The outbreak was confirmed by Public Health England (PHE).
It warned that while most people who catch measles recover within weeks, it can cause permanent disability and "occasionally even kill".
Click here for live updates on this story
Measles is one of the most infectious diseases known and can only be prevented through vaccination
About one in five children with measles experiences complications such as diarrhoea, vomiting, pneumonia and meningitis
While measles can lead to life-threatening health problems in some people, it usually passes within seven to 10 days
Symptoms include a runny nose, coughing, sore red eyes, a fever and small greyish-white spots on the inside of the cheeks
The outbreak follows one case of measles confirmed in a Kevicc pupil on 3 June.
There have been 785 cases of measles since the start of 2016 in England and Wales, compared with 646 in the same period last year said PHE.
PHE has also sent letters to parents at other schools in the area advising them to "ensure their children are fully protected" with the measles, mumps and rubella (MMR) vaccine.
Concerns were raised in a controversial paper in the Lancet in 1998 about a link between the MMR vaccine and autism, which has since been comprehensively discredited.
But in the wake of the publicity surrounding the Lancet paper vaccination rates fell sharply and some parents are still concerned about the effects, said PHE.
Dr Sarah Harrison, consultant in health protection for PHE in the South West, said: "Measles is a very infectious disease and can spread rapidly among communities such as schools if people have not been fully immunised.
"About one in 15 children with measles will suffer from complications such as pneumonia or ear or eye infections.
"I would appeal to any parents who have not yet had their children immunised to get them protected as soon as possible through their GP."
Alan Salt, principal at Kevicc, said: "The college urges parents and carers to make sure they follow Public Health England and GP advice and ensure their children are vaccinated."