Two rare tiger cubs die at Paignton Zoo within a month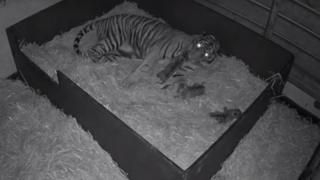 Two out of three rare tiger cubs born at Paignton Zoo less than a month ago have died, staff have confirmed.
The Sumatran cubs, born on 31 May to Shakira, had been the first born at the zoo since 2009.
The zoo said the first died "on day nine or 10" and the second on 23 June, after Shakira "inadvertently slept on top of" one of the remaining two.
Sumatran tigers are critically endangered, with about 300 believed to remain in the wild.
Neil Bemment, curator of mammals, said it was "not uncommon for one of a litter of more than two not to survive".
See the latest updates on this and other stories
He said: "We will never know why the first one died. Shakira may have lain on that one too, or maybe it was weaker and not getting its fair share of milk.
"In the case of this second cub, it is all the more frustrating as Shakira had been paying a lot of good maternal attention to both babies, but obviously could not feel it beneath her as she slept.
"Hopefully, with just the one cub to focus on, she will take more care and it will get to see its public debut."
Sumatran Tigers have been become endangered through destruction of their habitat and falling prey to poachers.