Butcher selling meat in pounds and ounces after Leave vote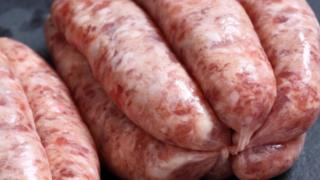 A butcher in Devon is selling meat in pounds and ounces following the vote to leave the EU.
Darren Gratton, from Gratton's in Barnstaple, claimed some customers had asked if they could order their meat in imperial units.
The shop's scales measured in kilograms, he said, but he could still work "with both" systems.
Mr Gratton said most of his customers on Friday morning seemed to support the decision to vote Leave.
"Today it seems like in north Devon everyone's for it. I think it will be better for local farmers," he said.
Imperial and metric side-by-side
| | |
| --- | --- |
| Imperial | Metric |
| 1 inch | about 2.5cm |
| 1 foot | 30 cm |
| 1 yard | almost 1m |
| 1 mile | just over 1.5km |
| 1 ounce | about 30g |
| 1 pound | about half a kg |
| 1 stone | about 6.5kg |
| 1 pint | just over half a litre |
| 1 gallon | about 4.5 litres |