Hammer attack husband pleads guilty to attempted murder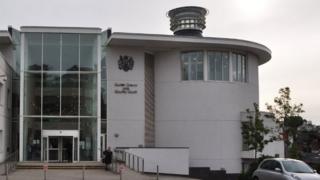 A jilted husband stalked his wife before smashing her head in with a hammer and leaving her permanently brain damaged, a court has heard.
Window cleaner Alexander Toth ambushed his wife Brigitta, stabbing her in the back twice and then bludgeoning her with a claw hammer.
Mrs Toth, 41, had told her husband their 20-year marriage was over and that she was leaving him.
Toth, from Torquay, has admitted attempted murder.
The 45-year-old will be sentenced on Friday.
Exeter Crown Court was told he attacked his wife on her way to work at a supermarket in March.
Residents living nearby heard the sounds of a struggle and Mrs Toth's calls for help.
Miss Rachel Drake, prosecuting, said Mrs Toth had separated from her husband and told him there was "no chance of resuming the relationship".
He had also discovered she had started seeing someone else, the court heard.
On the night before the attack Toth had searched for information about the effects of head injuries and at 05:45 on 23 March he ambushed his wife.
The court was told that the mother-of-two is being treated in a specialist neurological unit at Plymouth's Mount Gould Hospital three months after the attack and will never be able to live independently again.