Emily Wheeler wins Down's syndrome ear-pierce struggle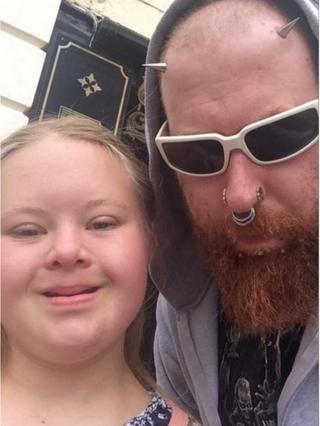 A teenage girl with Down's syndrome was turned down by eight different shops as she tried to get her ears pierced.
Emily Wheeler, from north Devon, went with her mother to get her ears pierced for her 18th birthday.
But all the shops rejected her on the grounds of her having Down's.
Nicholas Pinch, who finally carried out the piercing at his shop in Barnstaple, called the attitude towards Emily "absolutely disgusting".
Click here for live updates on this story
Emily's mother Vikki Findlay, 45, said her daughter was "very capable of making her own decisions".
"Every time we went into a shop they asked if she understood what she was doing and I said 'yes', but they would not do the piercing," she said.
She also volunteered the information about Emily having Down's syndrome over the phone to a number of shops, but was again rejected.
Ms Findlay has three daughters, all of whom have had to wait until their 18th birthday to have their ears pierced.
"Diversity comes in many forms and you should not judge a book by its cover," she said.
"Emily will have a tough enough life, but she has her own standing in society, the same as everyone else."
Voodoo Body Piercing in Barnstaple was the "only one left", she said.
Mr Pinch said on Facebook: "She is over the age required to not need parental consent, she could tell me what she wanted, pick her own jewellery and even had her mum there as well to confirm it was ok."